77 Dow Place, Loft in San Francisco - Just Sold!
Posted by Marin Modern Team on Thursday, April 14, 2011 at 9:00:50 PM
By Marin Modern Team / April 14, 2011
Comment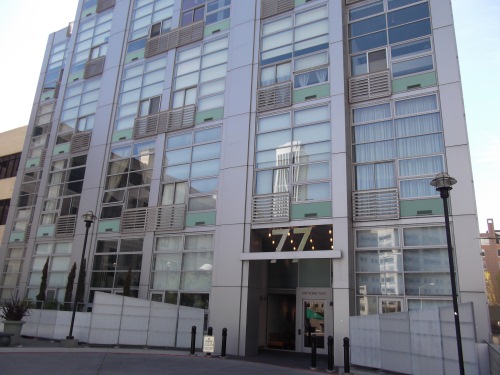 I'm pleased to announce another closed sale - a rarely-available loft unit at 77 Dow Place #711, San Francisco for $650,000!

This is a great real estate story because it's a perfect example of how the appraisal process is currently affecting our local real estate market, especially with condominium sales. It's a slightly long explanation, but if you're considering purchasing (or selling) a condominium or loft property in the near future, you might want to keep reading...

After searching with me for a few months, my buyer clients Neal & Randy found a perfect loft property at the Hawthorne Place building.  Located in the vibrant Yerba Buena district, this recently built contemporary glass, concrete & steel high rise building has 83 loft-style townhomes.  Unit #711 is one of the largest units in the building at almost 1,300 square feet; the city views from the floor-to-ceiling windows include the surrounding skyline and the dome of City Hall.  Lofts in this building are considered very desirable and large, view units such as #711 very rarely come on the open market.  The asking price was $699,000.

We made our initial offer back in January, and after many intense rounds of counter-offers, we were finally able to reach an agreement with the seller on a purchase price.  However, as we would learn, coming to an agreement on price wouldn't be our primary challenge - the major challenge to closing the deal became apparent while having the property appraised.

Due to the recent market decline, there had been a past sale in the building that was offered as an "REO" listing (otherwise known as a "bank-owned" property.)  This closed sale was so low that it skewed values for all units in the entire building. When it came time to have #711 appraised, we were told that the appraised value didn't match the contract price. Again, this was due to the REO sale and the lack of other comparable closed sales in the immediate neighborhood.  We were very disappointed; the seller then refused to lower his expectations and the contract price to match the appraised value, so we thought the deal was dead.

However, we decided to try again because Neal & Randy really wanted this unit in this particular building, and we began anew the lengthy pre-approval process with a second  lender....and once again, the property didn't appraise, despite new recently closed comparable sales in other nearby buildings. The past REO sale in this particular building was still the major problem; which, of course, could not be resolved until another "regular sale" of a unit at 77 Dow closed escrow....a classic real estate appraisal catch-22 situation!  Thankfully, by this time, the seller had adjusted his expectations to match the current "market value" and agreed to lower his sales price.  Neal & Randy were very happy to be able to purchase this rare loft unit at a price that was lower than what they had originally agreed-upon and they got an amazing deal at $650,000!

It was a long and intense negotiation process to get this deal to close; it's a great real estate story because it shows how REO sales are affecting our current condominium market.  It's also a good lesson in persistence - all of us involved: the buyers, sellers, both agents and loan officer (Brandon Hoyles of RPM Mortgage) worked extremely hard to keep this deal together to achieve successful results. 
Click Here to read a current article from the San Francisco Chronicle that supports my story!  This situation brings up interesting questions, such as the difference between "market value," "appraised value" and "what a buyer is willing to pay/perceived value."  Real estate professionals need to be aware of the potential challenging situations that could arise with certain types of properties. It confirms that knowledge & experience is paramount to getting the deal done in this challenging & changing real estate market.

And since no real estate story is complete without a word from the clients, here's what Neal and Randy have to say about their recent experience with me:
"Going into a real estate search knowing what you want and can afford isn't enough. What Randy and I learned is that you also need someone on your side who listens, understands your point of view, and then makes it happen. Rebecca was that person for us. We never had to question her concern for and dedication to us and we never felt pressured at any point. By working with Rebecca we were able to get the place we wanted for a lower price than what we were willing to pay. We couldn't be happier!"            

- Neal & Randy, buyers of 77 Dow Pl., April 2011
If you enjoyed my story and would like to know more, I'm happy to provide more details or discuss real estate in general, so feel free to call or email me. And, as always, if you are considering purchasing or selling property in the
San Francisco
or
Marin
areas, I would love to help you.
Thanks for reading, and have a great week!
Rebecca Brooks, Broker Associate