625 San Anselmo Ave. More on Exciting New Restaurant Plans!
Posted by Fred Anlyan on Saturday, March 31, 2018 at 8:19 PM
By Fred Anlyan / March 31, 2018
Comment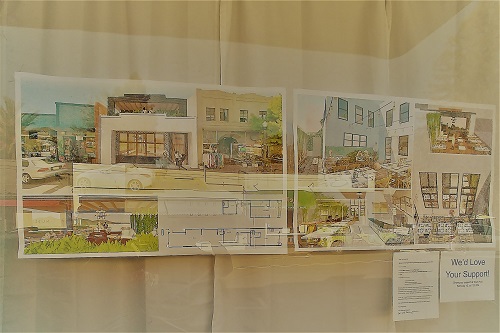 Last month, we wrote about the old Royal Sweet Bakery building at 625 San Anselmo Avenue in Downtown San Anselmo. The new owners, Josh and Ashley Petersen, have exciting plans to remodel the space and develop a concept restaurant featuring rooftop terrace dining and an interior courtyard. Josh and Ashley hosted an open house at the location on February 12 to answer residents' questions, just prior to the Planning Commission meeting where their proposal was presented. We are happy to hear that the project was approved! Recently, we sat down with Josh to talk about the plans.
As San Anselmo residents, Josh and Ashley were looking for a way to "create a gathering place" and contribute to the vitality of the Downtown area. They purchased the building with the idea of creating an "indoor/outdoor dining experience with a hip and relevant aesthetic", and, from the artist's concept drawings, it certainly seems they are on that path. Josh expects to begin construction in about 3 months and aims to complete the project by the first quarter of 2019. In the interim, he would like to find a restaurateur whose experience, skills, and aspirations match the ambition of the proposed design. He hopes to create a new, unique, restaurant choice rather than competing with cooking styles and menus already offered nearby.
We'll hear more about this project as it progresses and are looking forward to the opening early next year.
In the meantime, if you need assistance with or information about Marin County real estate, please call me . I'll be looking forward to hearing from you!