359 Marion Avenue, Mill Valley 94941 - Custom Built Home in the Redwoods
Posted by Cari Gennarelli on Thursday, August 15, 2013 at 8:45:05 AM
By Cari Gennarelli / August 15, 2013
Comment
359 Marion Avenue, Mill Valley 94941 - Custom Built Home in the Redwoods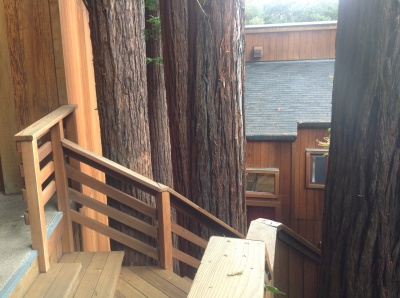 As you look for you're first or next home keep an open mind. Often the house you love is not the house you have been searching for. I thought I knew what my clients were looking for in a house so when 359 Marion Avenue, Mill Valley popped up in the New Listings on the MLS I didn't even consider it for my clients.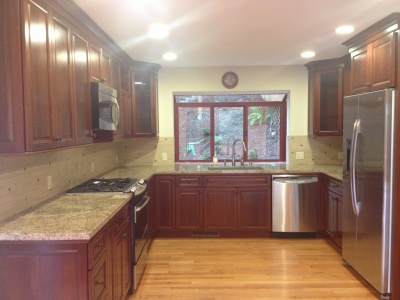 It hit the market on Saturday with the first open house on Sunday. I had already scoured the MLS for possible open homes for all my clients and this home didn't fit any criteria. I was hoping to have something exciting to send to a particular client but found nothing.
I started working with this lovely couple in August of 2011. They were living in a flat they owned in the Lake District of San Francisco and were starting to think about moving to Marin. After a few outings previewing homes and months of online searching they decided to take a break. We resumed our search in January of 2013 with a new budget and focus.
I often work with clients for up to 2 years or more before they are ready to make a move. I always tell my clients buying a home is a HUGE decision/purchase and it's a process. It can take 2 months or 2 years and since you are making possibly the biggest purchase of your life it's not a process you want to force or rush. Often what you think you want ends up being a complete 180 degrees from what you end up buying.
I prefer to take a more organic approach when helping clients find the Perfect-House-For-Them. When clients try to talk themselves into a house or I feel they are forcing it we take a step back and re-evaluate. Remember - your perfect house is out there and when you find it you will know.
It was Sunday, July 14th (the very next day after the Marion house came on the market). Approximately 1pm I received a call from my clients. I was spending a rare few hours on a Sunday at the Off The Grid event in the Presidio with friends and my clients said, we are at this house in Mill Valley can you come look at it? We love it! 
It took me awhile to realize it was the house I didn't even send them or consider for them. I immediately had to put my ego aside and remember that often the house client's love is not the house you thought they would or the house they were looking for. Sometimes a house just feels right.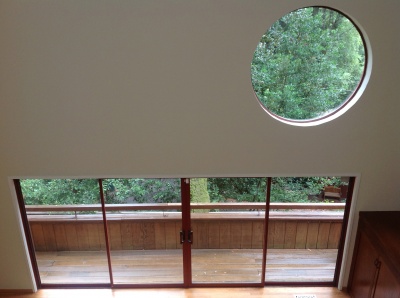 I finished my yummy food truck tacos, jumped in my car, drove to Mill Valley and checked out the house. Super cool house built in 1982 with custom round windows to enjoy the view of the redwoods, an open loft feeling, good space, 3.5 updated bathrooms and kitchen.  It had 3 bedrooms plus a den/office and a low maintenance yard. One of the coolest features - a huge round window above the master bathtub with an upward view of a small Redwood Grove!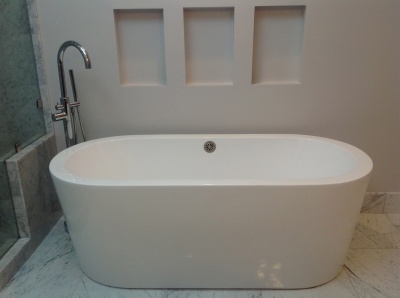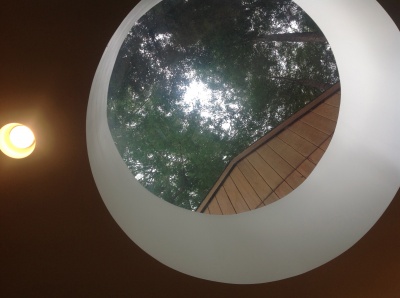 After seeing the house I met my clients, we talked, I suggested they sleep on it and the next day I was at their house writing an offer. The rest is history.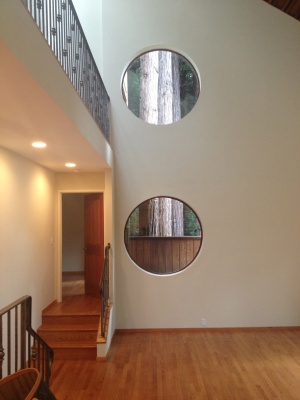 As realtors we constantly have to remind ourselves, "Self - it's not about you". We have opinions, specific tastes, opinions, judgments, opinion... you get the idea. What is most important is that in 2 months, 2 years and for the rest of the home ownership those clients LOVE that home. What is most important is that they are happy there, excited to bring their friends and family over and that they make a wonderful life and memories.
The moral of this story is my clients LOVE their new home. They were so excited and such a complete joy to work with. My goal at the end of every transaction is to get a hug and a referral. After we signed the loan docs at title my clients thanked me for my help and they both gave me a big hug! Success!