3 Easy Painting tips to enhance your home
Posted by Hilary Davis on Saturday, April 5, 2014 at 4:50:20 PM
By Hilary Davis / April 5, 2014
Comment
3 great painting tips!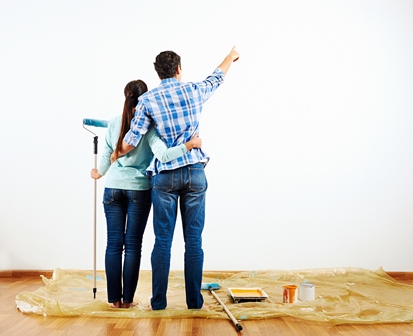 I want to share a few tips I just learned to to make painting easier before, during and after the job.
1: Use a big paint chip or better yet a paint board.  Buy a small can of the paint that you are considering and brush out a board.  Once dried, use it to check out the rooms in different times of day and lighting situations. Some paint brands have these large scale chips already made, if so buy them. This is much easier than a tiny chip.
2: After you finish painting and before you close the can, paint a line around the outside of the can at the level of the remaining paint in the can.  This will let you know how much paint you still have and what the color is.  This is very helpful down the road.
3: If you rub a little petroleum jelly on your hands before painting it will seal your pores and make clean- up a breeze!
Paint is one of the easiest and most affordable ways to make a fresh look on any room or exterior of your home.  If you plan to sell...you will most likely need to paint.  I love to help clients with this piece of the puzzle.  Give me a call; I'm happy to help.
Hilary Davis, Realtor 415-235-3133 Hilary@MarinModern.com