224 Mission Drive, Petaluma CA 94952 - JUST SOLD!
Posted by Cari Gennarelli on Friday, February 10, 2012 at 2:47:12 PM
By Cari Gennarelli / February 10, 2012
Comment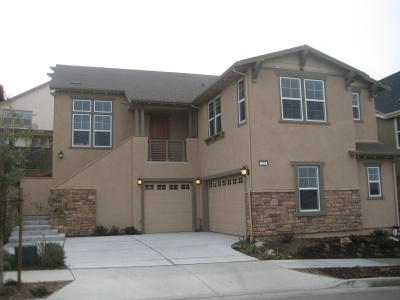 There is something alluring about buying a brand spankin new home! No wear and tear, no lingering "energy", absolutely no trace of others what-so-ever. On a smaller scale but a similar scenario is buying a car. Even though I know it doesn't make financial sense, I like to buy new cars. I like that new car smell and prefer not to take on someone else's problems and possible negligence. You just never know what you are going to get.
Did the previous owners keep up with the maintenance? When will I have to replace the roof? Should I update the bathroom? With every resale home you take on at least one and sometimes many projects.
Even though no property is perfect, even new construction will have issues, it's comforting to start fresh in a home and be the very first owners.
My clients just purchased, 224 Mission Avenue in Petaluma. A new Lennar development called Riverview. They are now the proud owners of the very last available home in the development.  Listed for $613,665.00 we were able to negotiate a lower purchase price of $590,000.
The process of representing buyers in a purchase of a property in a new development is completely different than a resale transaction. The builders have their own contracts, disclosures and process. As the buyer's agent we take a back seat while the builder drives. The Lennar agents probably felt I was an annoying back seat driver but I still had a fiduciary duty to my clients and wanted to make sure they were being represented.
The staff at Lennar was very professional, reliable, available and overall very pleasant to work with. With my supervision, they took excellent care of my clients and included me in most if not all of the communications.
My clients new home is just over 3,000 sq.ft. with 4 bedrooms, 3 bathrooms, a 3-car garage and a huge bonus/play room. The house sits at the top of a hill and has a lovely view towards the North-East. The Lennar homes are also equipped with SunPower Smart Mount Solar electric systems which deliver a vast reduction in the monthly energy costs making them 15% more efficient than California standards.
Each home is truly state-of-the-art. In addition to the solar panels the homes are equipped with heat sensitive sprinklers, automatic irrigation systems, dual zone heating  and air conditioning system, Low e-glass windows, high efficiency gas water heater, low flow plumbing fixtures,  pre-wired sound system, finished garage (my client loved this),  stainless appliances and so much more.
He wanted a 3-car garage and a place to put his very first pool table (his dream purchase with a new home). She wanted a newer home with 4 bedrooms and easy access to SFO for frequent travel. She also wanted to be part of a community and close to town. They both wanted a good school district and a home for under $600,000.
Between their online search and in-person visits they probably considered at least 150 homes. When we walked into this home - I knew it was the one for them. It just felt right and I was excited that it would give them both those features at the top of their wish list.
Finding the perfect home for clients is exhilarating. I am so excited for this lovely family to settle into their new home in a new community. I cannot wait to see it fully furnished, view family pictures and get updates about their new life in Petaluma. It gives me chills and I'm got gonna lie - tears of joy!