22 Sandalwood Court, San Rafael CA 94903 - JUST SOLD!
Posted by Cari Gennarelli on Friday, August 17, 2012 at 9:27:21 AM
By Cari Gennarelli / August 17, 2012
Comment
22 Sandalwood Court, San Rafael CA 94903 - Just Sold!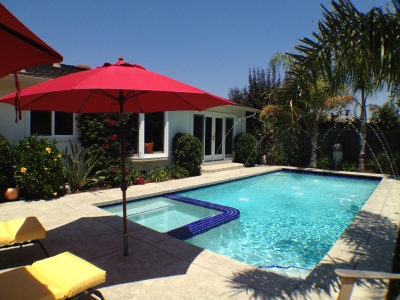 I love my job! No, really...it took me a long, long, long time to find the right one for me. Many years in industries I tried to love but Real Estate combines all the best parts of every other job. One of the standouts is I get to meet some amazing people and help them. I am a cancer so helping people is instinctual. There is something very satisfying about partnering with my clients, after they decide to work with me, and trust me with the single biggest purchase of their lifetime. Awesome right!
I first met my Sandalwood clients on a rainy Sunday in my office. They told me they had just sold a condo in Virginia, relocated and were living in San Francisco. We spent about an hour talking about their wants and needs in their new home and I immediately fell in love with this couple. They were so genuine and so willing to share their thoughts.
I could not wait to help them find their next home and was hoping they felt the same about me.  A big part of finding the right Realtor is simple. You have to like them and trust them and feel they will be a strong and relentless advocate for you during a transaction. It's truly a team effort and I knew this would be a great team.
We toured homes over several weekends and it quickly became clear that that they wanted completely different houses. He wanted a more traditional home and she melted when we walked into the Eichlers. Being 6'7" the flat roof Eichlers clearly didn't work for him. When your head just misses doorjambs you don't want the beams of your house just inches away from your head.
After a trial run offer on a lovely remodeled Eichler with stunning Kitchens, inside and out, they were ready to attack and find the house that was perfect for them.
When I walked into 22 Sandalwood Court in the Terra Linda area of San Rafael I had not planned on considering it for them. When looking at the online pictures I didn't think it was a fit. But when I walked through the front door and noticed the pristine interior, sparkling blue pool with built in outdoor kitchen, 4 bedrooms and the traditional layout I knew it had a great mix for both of them. The kitchen was small and needed to be updated but it had been well cared for. The U shaped floor plan had the master suite on one side with 3 additional bedrooms on the other and a spacious formal living room dining room and family room.
After spending many weekends touring with them I knew they could over look the kitchen and someday create their own. I knew they would be wowed by the back yard and it had all the other things on their checklist.
I started clicking pictures and quickly emailed them before even leaving the house. I was excited and turns out they were too. We came back the next day for a private viewing and after spending some time in the house, sitting in the back yard and listening to the fountain while soaking up the sun they were sold.
They came back on Sunday for the public open house and we carefully crafted our offer. Yesterday I had the sheer pleasure of meeting them at their new home to hand over the keys. They were a joy to work with.  Polite, considerate and fair. They knew what they wanted and systematically we went after it together.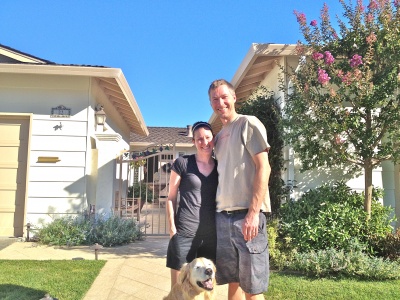 As I was getting ready to leave we opened the fridge and the sellers had left them a bottle of Champagne, 2 glasses and a lovely note! While driving home I was imagining them in their new resort-like back yard sipping champagne and celebrating the first few moments in their new home. Chills!
I LOVE my Job!