201 Spring Grove - Frank Lloyd Wright Inspired Home in San Rafael
Posted by Marin Modern Team on Wednesday, August 31, 2011 at 7:44:18 AM
By Marin Modern Team / August 31, 2011
1 Comment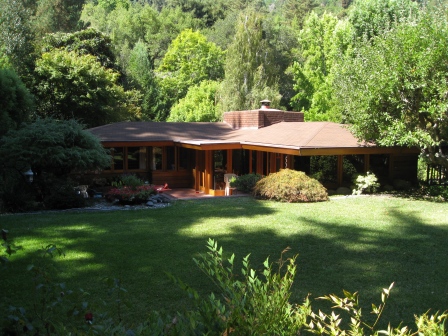 I want to share "the story" behind a very special property in the West End neighborhood of San Rafael.   Several years ago, I had the good fortune of  interviewing the builder and owner of this home on behalf of the West End Neighborhood Association newsletter.  I've been writing the newsletter for many years as both a West End neighborhood homeowner and member of the formal West End Neighborhood Association.   
Harry Winters first saw a lot on Spring Grove Avenue in December of 1956 and knew immediately it was the perfect place to build his family home.  There weren't any other interested buyers at the time so he managed to strike a good deal and, built a simple yet elegant house there.  Harry always had a fascination with architecture and although he was formally trained in mechanical engineering (U.C. Berkeley), he dreamed of designing and building his own house.  And, not any house: a Frank Lloyd Wright
(FLW) inspired house.
Harry loved the work of FLW, one of the preeminent architects of the 20th Century, and the designer of the Marin Civic Center.  In 1953, Harry wrote to FLW who referred him to Aaron Green, his representative in San Francisco, but the only house Harry could afford was the size of a "chicken coop." So, he decided to try his hand at designing his own house.
Harry was living in a rented home in Sun Valley where a neighbor introduced him to Mary Joy Barnett, a FLW student, who designed his house as her "final exam," adhering to strict FLW principles.  Whenever Harry offered design changes, she said, "FLW would never do that."
Harry could not afford to hire a contractor.  In March 1957, married with six young children, Harry broke ground on his house, working until dark after coming home from his full-time job.  Mary Joy's husband, Vance, a carpenter, mentored Harry and helped out when there was money to pay him.  For inspiration, Harry occasionally visited the San Anselmo house of CAL classmate Bob Berger who had taken a pilgrimage to FLW's Taliesin, Wisconsin home via Greyhound bus and convinced the genius to design a house for Bob and later for his dog.  In 1958, Harry moved his family into the unfinished house where he gated off the living room - his workshop - and he, along with his wife, Cecelia, and the children ate from a picnic table in the den. 
Harry used Mahogany to build his house. At the time he started construction Mahogany was a penny more than Redwood and he ordered 6000 board feet. The design and construction was so precise, that when he finished, there was just enough Mahogany left for kindling.  When you walk by Harry's house you're captivated by the beauty of the Mahogany and the clean and simple lines
that compliment the natural surroundings.
Harry's engineering talent came in handy.  During one of the many inspections, the City Inspector concluded that the house was built with the skill of a Swiss watchmaker.  To this day, the mitered corners are as tight as the day the house was built.  Every piece of wood fits perfectly and the grain is matched beautifully on the walls and doors.  Mitered corner windows follow the angle of the overhang, bringing in the natural light and expanding the rooms.  All of the furniture is built-in and handmade using ribbon grain. When Harry wanted covers for 42 light fixtures to match the geometric design in the kitchen, he visited the manufacturer, learned how they were made, designed the mold, and using the kitchen oven and his compressor, made his own fixtures.  He carried this geometric design throughout the house, onto doorknobs and the stained glass in he front door. FLW homes had a unique central geometry. Harry's house, built on a 4 foot grid, is a simple yet elegant gem in the West End.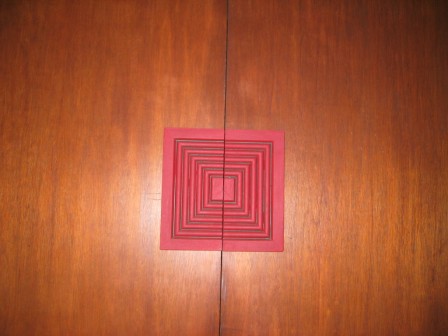 The founder and long-time president of the West End Neighborhood Association, Harry worked tirelessly to preserve the beauty and character of the neighborhood.  Asked to look back at age 86 on his experience building the house, he says he doesn't know how he did what he did. The finished house is a tribute to the genius of FLW and to Harry, the remarkable man who built it.  Harry Winters passed away in February 2011.
In late September this truly exceptional and classic mid-century modern home will be offered for sale for the very first time.  It is both iconic and important architecturally and I am proud to be representing the fine craftsmanship of a man I was blessed to have met and considered a friend.   
I've been in the business for more than  12 years. Please call me to discuss your buying or selling needs.  Of course, If you'd like more information about "The House That Harry Built", I'd be happy to provide you with that as well.