Jane Manning
Realtor (DRE 00911388)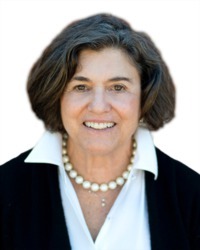 I ave been a Realtor in Marin County for over 30 years. 
I especially enjoy working with buyers, matching their needs with the perfect property for them.  Sometimes we hit upon the ideal home in one outing.  Sometimes it takes years.  Either way, I have only one goal, the right fit for my client.
---
Q&A with Jane Manning, Marin County Realtor 
How long have you called Marin County home?
I have called Marin County home since 1975.
How long have you been a Realtor in Marin County and what (real estate related) accomplishments are you most proud of?
I have been a realtor in Marin County for over thirty years. I am proud of the longterm relationships I have nurtured with clients through the years. 
Sell us.  Why Marin County?
Marin is a uniquely situated and beautiful county in close proximity to San Francisco, the East Bay, and the wine country.
Give it up.  Where is your favorite secret (or not so secret) destination in Marin County?
My favorite places in Marin County are Double Rainbow Cafe in Downtown San Rafael and my own backyard. 
Complete this sentence: In my free time....
In my free time I bake for Double Rainbow Cafe. I enjoy cooking and entertaining for friends and family. I take a variety art classes and I love spending time with my granddaughter. 
---
Recent Client Testimonials for Jane Manning
I cannot recommend Jane Manning highly enough.
Jane Manning has been my realtor since 1995. Since then, she has acted as my agent in five purchase transactions and three sales.
Jane has consistently provided the highest level of professional service to me. She has been excellent in negotiations, organized in all aspects of conducting a transaction, and is a clear and honest communicator. She is proactive in how she conducts herself and is proficient at managing and meeting deadlines. In addition to these professional qualities, she is a downright nice and ethnical person.
I cannot recommend Jane Manning highly enough.

---
Contact Jane
Contact Jane Manning, Realtor at Marin Modern Real Estate, at 415-302-8336 for your Marin County real estate needs.