Christa Khatcherian
Realtor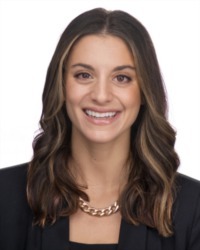 An aspect of my life that I am passionate about is my home. I love decorating it, finding new ways to balance luxury with utility, organizing and reorganizing, hosting dinners and get togethers. Like most people these days, I spend a lot of my time inside of my house, so I understand the importance of being in a home you absolutely love.
One of my unique strengths is that over the last ten years, I have lived in three different countries and ten different homes. My work took me overseas to New Zealand and Australia. Within the United States I have lived in California, Chicago, and Saint Louis. I have seen such a wide variety of homes from new construction homes on the Sydney Harbour, to renovated houses in the hills of Queenstown, to loft-style apartments in repurposed factories - all of which were perfectly suited for different people. Not every home fit the needs of every person, but there is always a perfect home for everyone.
I am so excited to bring my passion for creating a life that you love and my understanding of the Real Estate market to find all my clients in Marin the perfect home for them.
---
Q&A with Christa Khatcherian, Realtor 
How long have you called the Bay Area home?
Although I was born in California, I have had the pleasure of living all over the world. I was excited to return to California a year ago, and I'm so happy to be permanently calling Marin my 'home.'  
How long have you worked in Real Estate?
As a longtime lover of homes, I am thrilled to have the new title of a Real Estate Agent in the Bay Area. I have always been proud of my ability to create incredible client experiences and am excited to bring this sense of satisfaction and ease to my new clients here in Marin.
Sell us.  Why the SF Bay Area?
As someone who has lived in the heart of the city of Chicago, remotely in the mountains of Queenstown, and beachfront in Bondi Beach – Marin still tops the list of ideal locations for me. Every item on my "must have" list to create my dream life is here. There is the perfect balance of urban life and quiet living. Access to the ocean is abundant and there are more hiking trails than one could ever complete. The people are pleasant and there is such a powerful sense of community...Did I mention wine country is only an hour away?    
Give it up.  Where is your favorite secret (or not so secret) destination in Marin County?
I have a recommendation for everything in Marin – there is just so much this county has to offer!
If you are a sushi lover – Village Sake in Fairfax will blow you away.

For my coffee fans – Red Whale Coffee in San Rafael impresses me every time!
Anyone looking for a low-key lunch/dinner spot with an amazing patio and even better food – Hook Fish Co in Mill Valley is the spot!
Complete this sentence: In my free time....
In my free time, you will find me in a yoga studio, enjoying some sunshine, or exploring new places to dine with friends and family.
---
Contact Christa Khatcherian
Contact Christa Katcherian, Realtor at Bay Area Modern Real Estate, at 224-715-7627 for your real estate needs in Marin County.